Archive for the 'Uncategorized' Category
Murray Gell-Mann, a titan of physics in the 20th century, died last Friday at age 89.
He was probably best known for proposing the existence of, and naming, "quarks," the elementary particles that bind together to form protons, neutrons, and other strongly-interacting particles. (The name comes from Finnegan's Wake: "Three quarks for Muster Mark.") For this work he received the 1969 Nobel Prize for Physics. But he made many other seminal contributions as well, and in the mid-20th century Caltech, where he and Richard Feynman were on the faculty, was arguably the leading center for theoretical physics in the world.
I never met him personally, though I saw him give talks on a couple of occasions. He was scrupulous in pronouncing names correctly, e.g., "Einshtein." The joke was that Gell-Man had eight brains, and each one was smarter than you. Another story in which he makes an appearance: When his student Sidney Coleman (also a legend of theoretical physics) was applying for a job he wrote a letter that said, "Coleman knows more about quantum field theory than anyone in the world except Dick Feynman." Feynman's letter said, "Coleman knows more about quantum field theory than anyone in the world except me." So Gell-Mann and Feynman agreed on at least one thing.
I saw this in London. The video is timestamped for the winning presentation, but all of it was hilarious.
Here's a list of companies in Ohio who have recently been hiring Physics Bachelor's.
https://www.aip.org/statistics/ohio
If you are a time traveler and learned about this talk from this blog post, please stop by and say hi to Prof. Robertson last Thursday!
Some news of recent alumni:
Michael Highman '17: Winner of National Science Foundation Graduate Research Fellowship.
Jack Brangham '12: Awarded PhD in Physics from The Ohio State University; currently a Process Engineer at Intel Corporation.
Evan Heintz '16: Published his first research paper as graduate student.
Alums, we love to hear from you!  Let us know what you are up to!
Lots of people gathered in the Quad today to watch the eclipse.  Lots of fun had by everyone.  Work crawled to a standstill in the name of SCIENCE.
We eagerly await news from the group that went south to see the Totality.  Did crickets start chirping? Did birds roost? Did cannibalism start before or after the plague of frogs?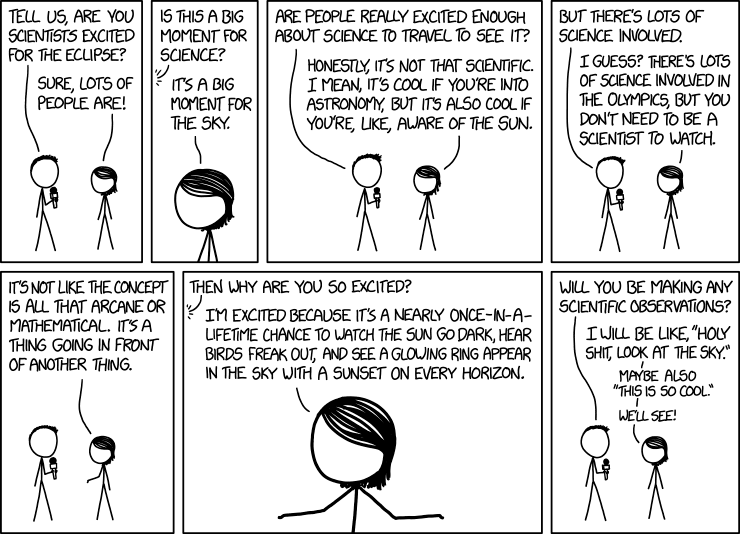 I regret to inform the Otterbein Physics community of the passing of Philip E. Barnhart on June 19, 2017.  Phil was a member of the physics faculty from 1959 until his retirement in 1995.  An astronomer by training, he was an energetic and popular teacher, as well as an outstanding mentor of students and junior faculty members.  He chaired the Physics Department for many years, and was instrumental in the development of its programs and faculty.  In addition, he was a leader in the original creation of the Integrative Studies program, as well as the Science Lecture Series, in collaboration with Prof. Jerry Jenkins of the Chemistry Department.
He was a founding member and Coordinator of the North American Astrophysical Observatory (NAAPO), an organization chartered to save and continue operation of the "Big Ear" Radio Observatory in Delaware, OH.
Phil was intellectually active until the end.  In 2012 he published Creative Science, an historical and philosophical survey of scientific discovery.  His last visit to Otterbein (in April 2013) was a talk about the book, and his ideas on how science should be taught and understood.